Are you curious about how enamel impacts teeth sensitivity during the whitening process? Well, look no further! In this article, we will explore the fascinating relationship between enamel and tooth sensitivity, providing you with valuable insights and tips to help you navigate the world of teeth whitening. So, sit back, relax, and get ready to uncover the secrets behind a radiant smile.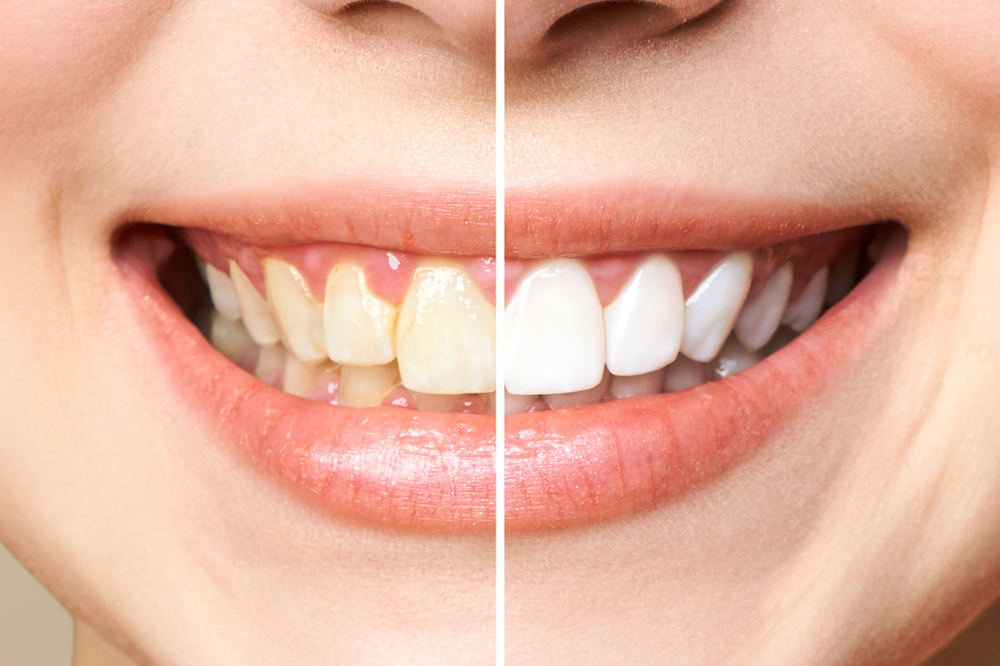 This image is property of gardensdental.com.au.
1. Understanding Enamel
1.1 Composition of Enamel
Enamel, the outermost layer of your teeth, is composed primarily of minerals, specifically hydroxyapatite. It is the hardest substance in the human body, even stronger than bone. Enamel consists of densely packed microscopic rods that are highly mineralized, providing strength and protection to the underlying layers of your teeth.
1.2 Functions of Enamel
Enamel serves several important functions in maintaining your oral health. Firstly, it acts as a protective shield, guarding against acids, bacteria, and temperature changes that can damage your teeth. Secondly, it provides structural support, ensuring the integrity and strength of your teeth. Additionally, enamel contributes to the aesthetics of your smile, providing a smooth, translucent appearance.
1.3 Role of Enamel in Tooth Sensitivity
Enamel plays a crucial role in protecting the inner layers of your teeth, including the dentin and pulp, from external stimuli. When enamel becomes thin or damaged, the underlying dentin becomes exposed, leading to increased tooth sensitivity. Enamel acts as a protective barrier, preventing hot, cold, sweet, and acidic substances from reaching the sensitive nerves within the dentin. Therefore, the condition of your enamel directly affects the sensitivity of your teeth, especially during teeth whitening procedures.
2. Causes of Teeth Sensitivity
2.1 Dentin Exposure
One of the main causes of tooth sensitivity is the exposure of dentin, which occurs when the protective layer of enamel is compromised. Dentin is a porous tissue containing microscopic channels called tubules that connect to the dental pulp. When these tubules are exposed, external stimuli can directly reach the nerves in the pulp, causing sensitivity and discomfort.
2.2 Enamel Erosion
Enamel erosion refers to the gradual loss of enamel due to factors such as acidic foods and beverages, certain medical conditions, and excessive brushing with a hard-bristled toothbrush. Acidic substances erode the enamel, making it thinner and more prone to dentin exposure. This erosion can lead to heightened tooth sensitivity.
2.3 Gum Recession
When your gum tissue recedes, it exposes the root surfaces of your teeth. Unlike enamel, the roots do not have a protective layer of enamel but instead have a softer substance called cementum. Cementum is more easily worn away, exposing the dentin underneath. Gum recession, therefore, contributes to tooth sensitivity by exposing the more sensitive dentin to external stimuli.
2.4 Dental Cavities
Tooth decay and cavities can also cause tooth sensitivity. When bacteria attack the enamel, they produce acids that erode the enamel and create cavities. These cavities expose the underlying dentin, resulting in increased tooth sensitivity.
2.5 Cracked Teeth
Cracked teeth can cause tooth sensitivity, particularly if the crack extends into the dentin. When you bite down or apply pressure to a cracked tooth, it can flex, causing the cracked segments to separate slightly. This movement can irritate the nerve endings in the dentin, leading to tooth sensitivity.
2.6 Excessive Teeth Whitening
While teeth whitening treatments can help brighten your smile, excessive or improper use of whitening products can lead to enamel damage and increased tooth sensitivity. Overusing whitening agents or using products with high peroxide concentrations can weaken the enamel, making your teeth more sensitive.
This image is property of news.ubc.ca.
3. How Teeth Whitening Works
3.1 Bleaching Agents in Whitening Products
Teeth whitening products often contain bleaching agents such as hydrogen peroxide or carbamide peroxide. These agents penetrate the enamel and break down the molecules that cause tooth discoloration. The oxygen molecules released during this process help lift stains and restore the natural color of your teeth.
3.2 Mechanism of Whitening
During the whitening process, the bleaching agents in the whitening products enter the enamel and dentin, where they release oxygen and break down the stubborn stains. This chemical reaction can cause temporary dehydration of the teeth, which can contribute to tooth sensitivity.
3.3 Side Effects of Teeth Whitening
Teeth whitening treatments can cause temporary tooth sensitivity, especially if the enamel is already compromised or thin. The bleaching agents used in whitening products can irritate the nerves in the dentin, leading to increased sensitivity. Additionally, some individuals may experience gum irritation or mild gum sensitivity as a side effect of teeth whitening.
4. Enamel Protection Techniques
4.1 Using Desensitizing Toothpaste
Desensitizing toothpaste is specifically formulated to alleviate tooth sensitivity. The active ingredients in these toothpastes, such as potassium nitrate or strontium chloride, work by blocking the nerve endings in the dentin, reducing sensitivity. Regular use of desensitizing toothpaste can help protect your enamel and minimize tooth sensitivity during whitening procedures.
4.2 Applying Fluoride Gel
Fluoride gel can help strengthen your enamel and reduce tooth sensitivity. The application of fluoride gel, either at home or during dental visits, promotes remineralization of the enamel, making it more resilient to external stimuli. Regular use of fluoride gel can enhance the protective qualities of your enamel and minimize tooth sensitivity.
4.3 Avoiding Acidic Foods and Beverages
Acidic foods and beverages can erode the enamel, making your teeth more susceptible to sensitivity. Limiting your consumption of acidic substances, such as citrus fruits, soda, and wine, can help preserve your enamel and minimize tooth sensitivity. If you do consume acidic foods or drinks, it is recommended to wait at least 30 minutes before brushing your teeth to avoid brushing away the weakened enamel.
This image is property of cdn.shopify.com.
5. Enamel-Friendly Whitening Methods
5.1 Professional In-Office Whitening
Professional in-office whitening procedures are performed by dental professionals using highly concentrated whitening agents. This method allows for precise application of the whitening agents and minimizes the risk of overexposure or damage to the enamel. The expertise of the dental professional ensures the safety and effectiveness of the whitening procedure while minimizing tooth sensitivity.
5.2 Customized Take-Home Whitening Trays
Customized take-home whitening trays are designed by dental professionals and provide a more controlled whitening experience compared to over-the-counter whitening kits. These trays ensure a proper fit and even distribution of the whitening gel, reducing the risk of gel contact with the gums and soft tissues. This method allows for gradual whitening and can minimize tooth sensitivity.
5.3 Whitening Strips with Lower Peroxide Concentration
Over-the-counter whitening strips are convenient and accessible options for teeth whitening. However, some whitening strips contain high concentrations of peroxide, which can lead to enamel damage and increased tooth sensitivity. Choosing whitening strips with lower peroxide concentrations can help protect your enamel while still achieving noticeable whitening results.
6. Enamel Preservation Tips
6.1 Following Recommended Whitening Regimen
To preserve the health of your enamel and minimize tooth sensitivity, it is essential to follow the recommended whitening regimen provided by your dental professional. Overusing whitening products or extending the duration of treatment can increase the risk of enamel damage and tooth sensitivity.
6.2 Maintaining Good Oral Hygiene Practices
Practicing good oral hygiene is crucial for enamel preservation and overall oral health. Brushing your teeth twice a day with a soft-bristled toothbrush and fluoride toothpaste helps remove plaque and bacteria that can contribute to enamel erosion. Additionally, flossing daily and using an antimicrobial mouthwash can further protect your enamel and maintain a healthy smile.
6.3 Regular Dental Check-ups
Regular dental check-ups are essential for detecting and addressing enamel issues, including tooth sensitivity. Your dentist can evaluate the condition of your enamel, identify any underlying causes of sensitivity, and provide guidance on appropriate treatment options and preventive measures. Routine dental visits help ensure the timely detection and management of enamel-related concerns.
This image is property of nkfamilydental.com.
7. Possible Risks of Enamel Damage
7.1 Enamel Sensitivity
Enamel sensitivity is a common risk associated with enamel damage. When enamel becomes thin or compromised, the nerves in the dentin can be easily stimulated, resulting in heightened tooth sensitivity. Enamel sensitivity can make eating or drinking hot, cold, or acidic substances uncomfortable or painful.
7.2 Enamel Abrasion
Enamel abrasion occurs when the enamel is worn away by external forces, such as excessive brushing with a hard-bristled toothbrush or aggressive teeth whitening techniques. This can lead to permanent enamel loss and increase the risk of tooth sensitivity.
7.3 Enamel Hypoplasia
Enamel hypoplasia refers to the incomplete or underdevelopment of enamel during tooth formation. It can occur due to various factors, including nutritional deficiencies, certain medical conditions, or genetic predisposition. Enamel hypoplasia can make the teeth more susceptible to sensitivity and other dental issues.
8. Precautions for Individuals with Sensitive Enamel
8.1 Consulting with a Dentist
If you have sensitive enamel or are prone to tooth sensitivity, it is essential to consult with a dentist before undergoing any teeth whitening procedures. Your dentist can evaluate the condition of your enamel, identify the underlying causes of sensitivity, and recommend personalized whitening options or alternative treatments that are safe and effective for your specific situation.
8.2 Using Gentle Whitening Techniques
For individuals with sensitive enamel, it is advisable to opt for gentle whitening techniques that minimize the risk of enamel damage and tooth sensitivity. Professional in-office whitening or customized take-home whitening trays, as recommended by your dental professional, provide controlled and precise application of whitening agents, reducing the risk of enamel damage and sensitivity.
This image is property of www.castlehillsdentistry.com.
9. Alternative Teeth Whitening Options
9.1 Natural Whitening Remedies
If you prefer natural approaches to teeth whitening, there are several remedies you can try. These include brushing with baking soda, using hydrogen peroxide as a mouthwash (in diluted form), or rubbing the inside of a banana peel on your teeth. It is important to note that natural remedies may have limited effectiveness and may not provide the same noticeable results as professional whitening methods.
9.2 Non-bleaching Whitening Products
Non-bleaching whitening products, such as whitening toothpaste and mouthwashes, can help remove surface stains and brighten your smile without using bleaching agents. While these products are generally safe for enamel, it is essential to choose reputable brands and follow the instructions for use to minimize the risk of any sensitivity or enamel damage.
10. Enamel Repair and Restoration
10.1 Dental Veneers
Dental veneers are thin, custom-made shells that are bonded to the front surface of your teeth. They can be made from porcelain or composite resin and are used to enhance the appearance of your smile, including tooth color and shape. Veneers can cover up enamel defects, such as discoloration or minor chips, providing a natural-looking, durable solution.
10.2 Dental Crowns
Dental crowns, also known as caps, are protective coverings that encase the entire tooth. They are typically made from porcelain or metal and are used to restore the strength and appearance of severely damaged or decayed teeth. Dental crowns can effectively protect and support weakened enamel, preventing further damage and reducing tooth sensitivity.
10.3 Enamel Microabrasion
Enamel microabrasion is a minimally invasive procedure that involves removing a thin layer of the enamel to improve the appearance of teeth affected by stains or discoloration. This procedure can also help with reducing tooth sensitivity by eliminating the outermost layer of enamel that may be more susceptible to sensitivity triggers.
10.4 Composite Bonding
Composite bonding is a dental procedure that involves applying tooth-colored composite resin to the tooth surface to repair chipped, cracked, or discolored teeth. The composite material is sculpted onto the tooth and then hardened with a special light, resulting in a natural-looking restoration. Composite bonding can provide functional and aesthetic improvements to teeth with damaged enamel.
In conclusion, understanding the importance of enamel and its impact on tooth sensitivity during teeth whitening procedures is crucial. By following enamel protection techniques, opting for enamel-friendly whitening methods, and taking precautions for individuals with sensitive enamel, you can achieve a brighter smile while preserving the health and integrity of your enamel. Regular dental check-ups and consultations with a dentist will ensure the appropriate care and treatment for maintaining the strength and sensitivity of your enamel. Remember, a healthy enamel contributes to a confident smile and overall oral health.